Motorcycle Engine Rebuilders Vancouver BC
Alec's Automotive does precision machine work on all make and models of motorcycle engines from Harley's to Honda's.
Bike Engine Machining and Rebuilding Services Include:
Cylinder Boring
Cylinder Honing
Cylinder head rebuilding
Machine crankshafts
Resurfacing
Thread Repair/Helicoils
We replace sunken valve seats with new hardened satellite inserts, repair broken fins and castings, and much more.
Modern multi-valve cylinder heads can benefit from our complete valve operations, which include replacing the valve guides, machining the valves, cutting the seats with our precision Serdi valve seat machine, and re-assembly with new valve stem seals.
We'd be happy to help you with your upcoming motorcycle engine rebuilding project.
For answers to your questions, a quote and current turnaround time Give us a call at 604-876-7111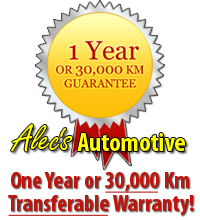 Why settle for an inferior warranty on your engine rebuild when you don't have to? Click for details...
For answers to your questions and a fast, accurate quote, call 604-876-7111