Gas Engine Rebuilder Services Vancouver BC
Is your car, truck, boat or motorcycle gas engine in need of a full or partial rebuild?
Alec's Automotive has been rebuilding gas engines for over 62 years and will deliver the quality service and value repair shops and personal owners alike have come to expect and depend on for your needs too.
Most Common Engine Brands (but not the full list by any means) include:
BMW
Chrysler/Dodge
Ford
GM/Chevy
Honda
Jeep
Mercedes
Nissan
Toyota
VW
Have one of our experts answer all your important questions.
For a free quote on your gas engine rebuild or automotive machining needs
give us a call at 604-876-7111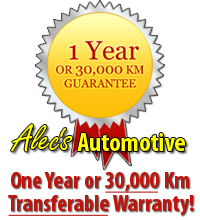 Why settle for an inferior warranty on your engine rebuild when you don't have to? Click for details...
For answers to your questions and a fast, accurate quote, call 604-876-7111