Alec's Automotive Rebuilt Engine Warranty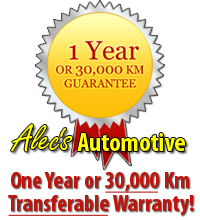 When you invest in rebuilding your engine we understand you want to make sure you get a strong written guarantee.
What's more, it should come from a machine shop / engine re-builder who you feel confident will be there to support you if you ever need it and a company who has stood the test of time and been in business for a long time like Alec's.
At Alec's Automotive, unlike other engine rebuilders you not only get a 1 year but a full 30,000 Km warranty. 
Also, unlike others…
We don't think it's fair to limit your warranty to only you because anybody who buys your vehicle will want to also be protected when they take ownership from you. AND you will get more on your sale when you can transfer the warranty to your buyer.
So we decided to make our warranty transferable to the buyer(s) of your engine should you sell your car, truck, etc.,  before your one year or 30,000 Km warranty is up.
We think that's only right and fair.
At Alecs we stand behind our work 100% and have been offering our rock solid guarantee and exceptional customer service and support since we opened our doors in 1948
For expert answers to all your important questions
give Alec's a call at 604-876-7111